Comments & reviews.
We're always happy to hear how Doppeldecker accessories fit into your life.
Send your own comments to customerservice@doppeldeckerdesign.com.
---
Hi, a few months ago I purchased one of your DC 3 print bow ties to wear on my wedding day. My grandad used to fly DC 3s and he inspired my own love of aviation. He is no longer with us so thought it would be a nice acknowledgement of him on our special day.
I thought you might like to see some photos of me wearing the bow tie - see attached! Feel free to use the photos for anything if you want.
Many thanks
Jon Chippindall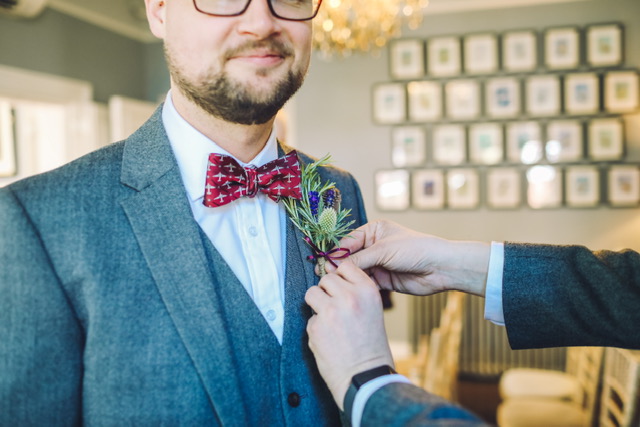 ---
"Just a note to say I have received the ties and to let you know that it was great service, professional packaging, and the ties aren't too bad either. Another happy client." — Duncan
---
"Thank you very much for the F-15 tie. It was a surprise gift that brought back wonderful memories of my time flying the F-15E. I remember seeing...one and thinking how great it looked. I will wear it with pride." — Jay
---
"Thanks so much. I really love your ties. I was wearing the F-15 one a few weeks ago because I had a meeting...He commented just as we started talking about how nice the tie was.
Could not get that sort of compliment without your high quality products." — John
---
"Tie looks even better in person! (So I ordered another one today) Thanks for updating my style" — Jeff
---
"Yesterday I received your very quick shipment of the 5 ties I ordered. Opening the first tie-box I could hardly believe my eyes. The rich silk fabric, the immaculate intricate and very authentic design as well as the gorgeous colors just about knocked my socks off.
Very rarely do orders over the Internet fulfill my and my wife's high expectations in quality and style, but your ties found us speechless. Coming from Europe we are used to the high standards of top Italian designers, but your products can truly fly with the best of them.
We greatly appreciate your fine talent and the inspired way you bring it to life. Thank you for enriching our lives with these beautiful ties. I will wear them often with great pride and joy. (Edith can hardly take her eyes off of me today, sporting the golden B24 tie under my Buzz Rickson's 1940's leather flight jacket.) We can't wait for new designs to arrive in your store." — Oliver & Edith
---
"I have just received my order which I placed only three days ago. I must say how very pleased I am with your quick and personable service. I've seldom found a company such as yours with such a desire to please your customers. Mine was a small order, yet you make me feel as if I've spent a very great sum of money with you. Thank you most sincerely for your courtesy.
I would like, also, to extend to you my feelings of pleasure upon receipt of your excellent products. I have paid far more for far less quality from other specialty companies. Your craftspersons take very great pains in assuing quality and excellence of product. Please be assured that I will wear my new ties with great pride and at every opportunity make my friends and aquaintances aware of your business. Thank you very much for a surperior product and your thoughtful and professional care of a new friend!" — Don, Sr. Col. U.S.A.F. (Ret.)
---
"My husband loves his B52 tie ...This was a very nice Christmas surprise for someone who is hard to buy for. The quality is exceptional as was the service." — James and Pat
---
"Thank you! By chance, I checked the site about three weeks ago, ordered a B-1 tie and have worn it happily a couple of time already. You folks do great work and I appreciate your follow up." — Chris