Single engine, single pilot, big iron flightdeck
Pilatus PC-12NG features new Honeywell APEX avionics
The market niche for the PC-12 does not need to be established. Since 1994, this fast, single-engine turboprop with a pressurized cabin and seats for up to nine passengers has been successfully sold to operators worldwide who need to get to remote, short, often unpaved runways with speed and economy. Pilatus aircraft, a Swiss company founded in 1939 that is well established in military turboprop trainers and STOL aircraft such as the Pilatus Porter, sold over 760 PC-12s to private companies and government operators worldwide such as the Royal Flying Doctor service in Australia and the Royal Canadian Mounted Police. Two thirds of PC-12s operate in North America.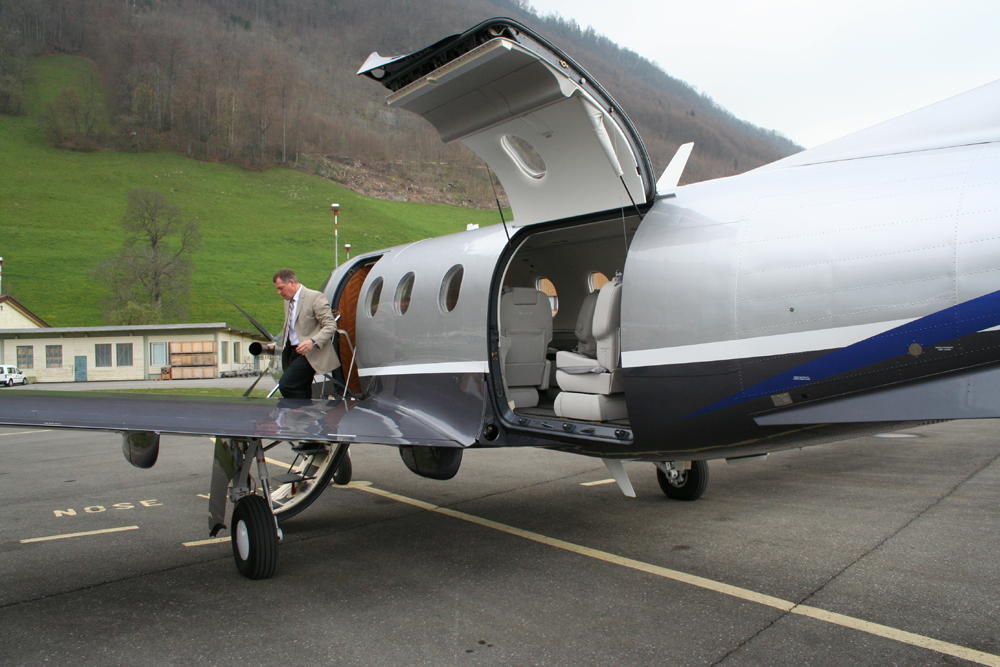 Certification for single-pilot IFR operations and single engine economy pared with cabin space and cruise performance similar to a King Air have made this aircraft popular with corporations, charter operators and even fractionals. The PC-12 is a great aircraft to get to your sunny Bahamas resort from the Northeast winter in a matter of hours, with no transfers involved. Of course, you have to get over the fact that the PC-12 has only one engine. Pilatus has a lot of literature and statistics to prove that this is not really an issue, but as we all know the single/twin engine discussion will probably never end as it is, beyond statistics and flight performance, almost a matter of belief.
When you approach the PC-12 on the ramp, you certainly forget that it is a single engine aircraft. It sits tall and high, looks solidly built, many business jets appear smaller. I visited Pilatus Aircraft in Stans, Switzerland recently, to be one if the first to fly the new PC-12NG after FAA/JAA certification on March 23rd, 2008. Daniel Kunz, sales and marketing manager, and Michael Alb, production test pilot, where awaiting me at the Pilatus factory, which is located about an hour by train south of Zurich on the small mixed use military civil airport of Stans/Buochs. (LSZC).
While Daniel Kunz gave me a tour of the production facilities, a customer called, wishing to push his PC-12NG delivery forward. Daniel could not really accommodate him, the 180 PC-12NG aircraft Pilatus can manufacture in the next two years are completely sold, first open delivery slots are only available in 2010. The Swiss do their manufacturing in a very traditional way, with strong aircraft built to exacting standards the happy result. All parts are milled from solid aluminum blocks here and then shipped to a plant in Portugal for riveting of fuselage and wings. The empty fuselage and wings are then trucked back to Switzerland, where the wings are joined and all final assemby takes place. There is almost no fluctuation in the workforce, workers here stay for an entire worklife with Pilatus, some even in two generations. It seems to be a good place of birth for a solid aircraft, the beautiful Swiss mountains with alpine skiing and hiking doing their part as well to keep the workforce happy.
Test pilot Michael Alb invited me into the cockpit of HB-FVC, PC-12NG serial no. 1001 ( the new PC-12s get serial numbers starting from 1001). After a few months as demonstrator this aircraft, painted in silver and black, is destined for a private customer and has the very comfortable executive interior with white leather seats. Before our flight next morning Michael wanted to get me aquainted with the new Honeywell flight deck. Based on the Primus EPIC architecture for executive and regional jets, Honeywell designed the Primus APEX glass cockpit for turboprops such as the PC12NG. In recent years, I had the opportunity to fly the EPIC's Planeview version on the Gulfstream 450, and the EASy version on Dassault's Falcon 900Ex. So I was looking forward to see how this very advanced flight deck would help pilots in a single engine turboprop setting.
Just like Gulfstream and Dassault, Pilatus has, together with Honeywell and BMW Designworks USA Inc., created an ergonomically pleasing workspace made for the needs of the Pilatus pilot. Four large 10.4 in. LCD flat panel displays are arranged in a T-shape, with a Primary Flight Display (PFD) each for pilot and copilot and in between the upper and lower Multifuction Displays (MFDs). The right (copilot) PFD is an option, since the PC-12NG is certified for single pilot operations, but according to Pilatus no customer has ordered the aircraft without it. Together with the various switching and tuning panels this flightdeck offers a density and depth of information that is hard to find in other aircraft in this class. The PC-12NG can not only operate IFR at jet cruising levels between major airports up to 1500 NM apart, but also VFR to short and remote grass and gravel strips. This kind of operation shines a whole new light on the two integrated GPS receivers and the worldwide database of the Enhanced Ground Proximity Warning System (EGPWS). After all, Pilatus pilots operate closer to terrain then many of their executive jet collegues, so the PC-12 seems to be a good aircraft to install the very latest situational awareness tools.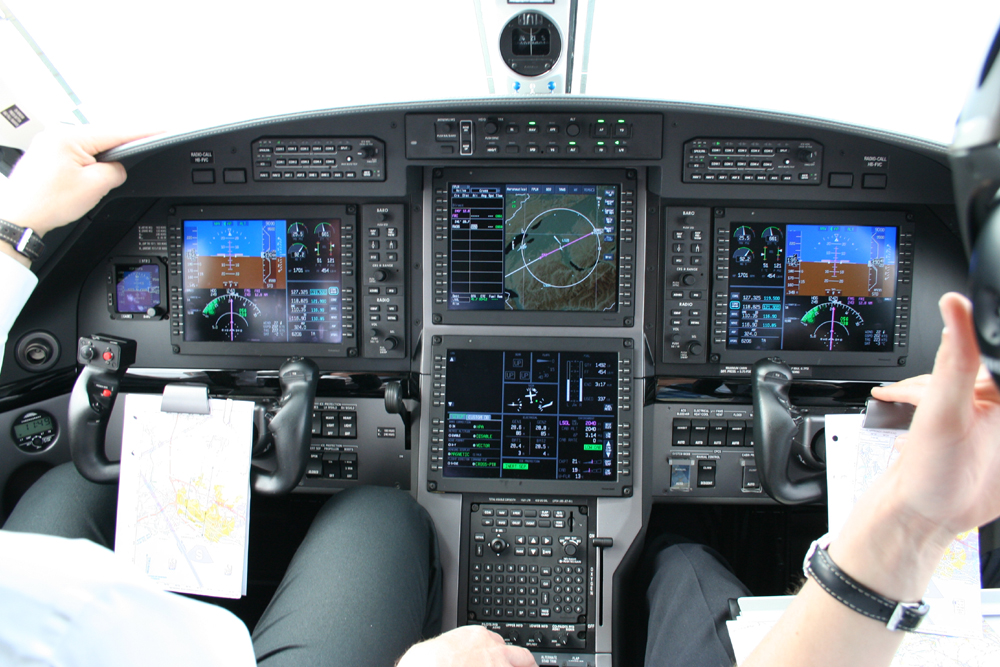 Flights are planned and executed on the Flight Management System (FMS). Traffic and Collision Alerting System (TCAS) and weather radar returns are displayed on the PFDs. The weather radar antenna is located on the right wingtip, due to the single engine in the aircraft nose. NEXRAD, airport weather and winds aloft can be received if operating in the U.S.
A Modular Avionics Unit (MAU) coordinates the flow of all data with the help of two Network Interface Cards (NICs), the subsequent display is calculated by two Advanced Graphics Modules (AGMs), which are also part of the MAU. In large executive jet installations, such as the Gulfstream 450 and Dassault 900ex, two independent MAUs are standard.
All these advanced avionics obviously need a lot of power and good back-up systems since they have assumed such a central role in new generation aircraft and failure is not really an option. Pilatus completely reworked the electrical system. But before engineers even got to the electrical system, the underlying power of this single-engine aircraft had to be boosted: The new Pratt&Whittney PT-6A-67P engine delivers 15% more power then its predecessor, allowing for improved flight performance but also ample excess capacity to mount two 300A generators on the accessory section. They supply the 24V DC system and charge two 42Ah batteries. In addition, the Emergency Power System (EPS) acts a s a back-up with a 24V 5Ah battery. A standby-power bus supplies the most important systmes and avionics and is used on ground to feed the FMS before engine start.
Honeywell's APEX offers the possibility to use the FMS airport database landing altitude to control the cabin pressurization, so Pilatus took the additional step of also automating the cabin controls with a new digital Environmental Control System (ECS).
The next morning, we climbed again into the cockpit to try all this in flight. I took the left seat, while Michael instructed and assisted from the right seat. Once settled in the cockpit, it is very easy to forget that you operate a single engine aircraft. The cockpit is not only roomy, but the very professional looking glass cockpit of the new PC-12NG reminds one more of a large executive jet then a turboprop.
To get started, we switched on the standby bus on the overhead electrical system panel. Interestingly enough Pilatus abandoned the once fashionable push-buttons for regular switches, since engineers felt that switch positions where not easily identified with push-buttons. However, the electrical panel does not require a lot of switching during flight and is mostly automated.
The avionics awaken, and we can now go ahead and program the FMS and other parameters for takeoff. The batteries give us up to two hours to complete this task, however in practice this only takes a few minutes. That's because when entering data, the big iron heritage of the Honeywell APEX glass cockpit becomes evident. Data entry is almost intuitive and is done on four tabs on the upper MFD: INIT, PREFLIGHT, TAKEOFF and LANDING. These tabs are similar to traditional FMS pages. But instead of inserting data with line select keys (LSKs), the cursor jumps from entry to entry according to a task oriented workflow. We start on the INIT tab with the check of the geographic (LAT/LONG) position and the database cycle. After that it is on to the PREFLIGHT tab with weights and environmental data. Departure runways and route are entered on the TAKEOFF tab, transitions, approaches and landing runways on the APPROACH tab. This all happens very quickly, since the cursor automatically jumos to the next required field after each entry. So a flightplan is created and displayed in tabular form on the left 1/3 portion of the upper MFD. The right 2/3 of the upper MFD are used for the INAV, a large map display with geographic and chart information. The flightplan is displayed on the INAV in graphical form as well. You can even define flightplan waypoints by moving the central joystick to a certain point and selecting the such defined position as a waypoint via a menu.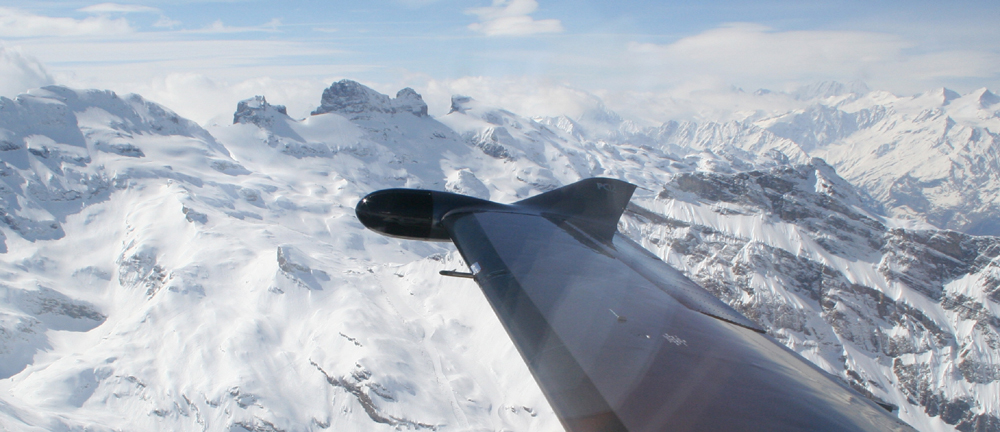 As I found out during our flight over Switzerland, the Cursor Control Device (CCD), the joystick and the four arrow buttons near it are one of the few items that could be improved, since it may be difficult to move the cursor precisely in turbulence. Other, larger aircraft have palmrests on the center pedestal for this reason, but the PC-12NG does not have a center pedestal and some other solution, maybe software driven, should be found.
After engine start, the PT6A engine turns the four blade Hartzell propeller at idle rpm. As aircraft systems come alive one after another, a multitude of red and amber messages disappear on the Crew Alerting System on the lower MFD. The status of gear, flaps and trim and important aircraft systems (fuel, electric, ECS) is always shown on the lower MFD.
Checklist are classic paper at this time, a fact that I enjoyed since electronic checklist are often cumbersome and unflexible for professional pilots that fly many legs a day.
So the PC-12NG is ready for takeoff in very little time, and after crossing a highway at a traffic light (typical for Swiss airports in narrow valleys) we takeoff VFR towards the snow capped mountains of Switzerland's central range. Manually flying the PC-12 over these 12000ft high mountain tops is pure fun. After an impressive climb and a look at the few midweek skiers up there Michael demonstrates a just as impressive 8000 fpm descent back into the valley for a touch and go at Buochs airport. Thanks to the trailing link landing gear and Michael's patient instruction, my first landing turns out quite well, and after takeoff we continue IFR to Lausanne on Lake Geneva. The weather on this day is defined by a southwesterly flow, whith heavy clouds on the southern side of the alps and mixed weather in the west with sometimes just a few miles visibility. On approach to Lausanne airport which only has a short 800m (2600ft) runway with a 2.5% uphill slope, we cancel IFR and descend VFR through the haze. The INAV map display and the EGPWS database provide good situational awareness, essential at the high speeds the PC-12 operates.
After a good French-Swiss lunch at the airport restaurant we continue to Les Eplatures (La Chaux-de-Fonds), another mountain airport with a short runway, and finally the international airport of Zurich (ZRH). While waiting for our IFR clearance for these two sectors during climbout from Lausanne, mountains, clouds and other aircraft demand our full attention. I found the Primus APEX cockpit to be very reassuring as it provided enhanced situational awareness in challenging conditions typical for the Pilatus PC-12 pilot. With future software upgrades, terrain, traffic and weather will not only be displayed on the PFD but also on the INAV, which seems to assume an ever more central role.
In Les Eplatures (La Chaux-de-Fonds) (LSGL) we flew the entire procedure turn and ILS approach coupled on autopilot, and landed on another 2500ft runway. After a touch-and-go we tried out the other side of the PC-12, and neatly fit with 210 kts IAS into the traffic flow of ZRH, where we landed on the 10000ft runway 14. After a long rollout without reverse we taxied to Jet Aviation's ramp, where the PC-12NG has enough ramp appeal to make ground staff and execuitve jet pilots take notice. PC-12NG owners will enjoy the ability of this aircraft to bring them safely, fast and cost efficient from large aviation hubs to the runway behind their ranch.
J. Peter Berendsen